Venue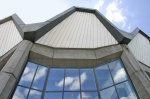 The GEC 2016 will be held at

Veranstaltungszentrum & Audimax
Ruhr-Universität Bochum
Universitätsstraße 150
D-44780 Bochum
Germany

A detailed description of how to get to the university can be found on the websites of the RUB.
There will be a conference ticket for public transportation in Bochum.
Free-of-charge parking-spaces can be found at RUB in the parking decks P4-P8, exit "Uni-Mitte".

A detailed map of the Audimax Foyer can be found here.

Safety first
No matter where you are, contact international SOS first, if you are sick, injured or need medical advice. 112 is the common emergency telephone number that can be dialed free of charge from any fixed or mobile telephone in order to reach emergency services (ambulance, fire and rescue, police) in all member states of the European Union.
112 is one of two numbers (the other being the region's own emergency number) that can be dialed on most GSM phones even if the phone is locked.


Some impressions of Bochum and RUB (YouTube)
Timelapse: A Day at RUB (2015)
Ruhr-Universität Bochum: Campus of the future (2011)
Visit Bochum (2014)


Botanical Garden at RUB
Just south of the conference center (Veranstaltungszentrum VZ), you can find the Botanical Garden which includs some tropical houses and a Chinese garden. It can easily be reached when you have some free time during the GEC 2016.
Open: 9:00-16:00


Antic art collection at RUB
Antikenmuseum in den Kunstsammlungen der Ruhr-Universität Bochum
Open: Tuesday-Sunday 11:00-17:00
No entrance fee


Internet
Wi-Fi access is complimentary in the conference center. You will receive a personalized login account on your confirmation of registration. The account is valid October 10–14. If your home organization provides "eduroam" access, you can use the same configuration like at home. Just open your laptop and start surfing. Attendees who do not have "eduram" access use the personalized login account on your confirmation of registration and follow these instructions:
• WPA-Type: WPA/WPA2 Enterprise
• Key-Type: TKIP or AES
• EAP-Method: TTLS
• Authentication-Type: PAP
• Anonymous identity: anonymous@ruhr-unibochum.de
You can find more information about our wireless access on the web:
www.rz.ruhr-uni-bochum.de/dienste/netze/wlan


Audiovisual equipment
The technical sessions will be equipped with an LCD projector and amplified sound. Dell Laptops will be provided for the oral sessions. All laptops will be equipped with Windows 7 Prof. 64bit, Acrobat Reader, PowerPoint 2013, Windows Media player 12 and VLC 2.1.1. Presentations need to be uploaded before the session to the laptop provided.
Experience shows that saving your presentation as a PDF file (with embedded fonts) avoids potential conversion problems between PC and Macintosh computers. If presenters wish/need to use their own computer, any setup delay will be counted against their allotted presentation time.


Cloakroom
Participants are asked to look carefully after their wardrobe, valuables, laptops, and other belongings for which the organizers are not liable.
A cloakroom for conference participants will be located at the Audimax. You can leave your jacket, bag or suitcase there.
It will be open
Monday 8:00 - 20:00
Tuesday 8:00 - 22:00
Wednesday 8:00 - 21:00
Thursday 8:00 - 19:00
Friday 8:00 - 13:00


Lockers
Free of charge lockers can be found at the central library "UB".
Regular lockers can be found at the main station "Bochum Hauptbahnhof".


Dining options
The dining options on campus include
• Main dining hall "Mensa" (11:00 am – 2:30 pm), directly next to the Audimax
• Smaller dining hall "Bistro" (11:00 am – 4:00 pm)
• Coffee bar in direct vicinity of the conference rooms (8:00 am – 6:00 pm)
• Restaurant "Q-West" (9:00 am – 10:00 pm)
• Cafeteria "Edwards" on campus / at main library (9:00 am – 8:00 pm)
Other places to eat can be found in the shopping center (Uni-Center) near the university subway station.


Discover the campus by audioguide
A stroll through the Ruhr University holds many surprises: Only a few hundred meters away from the tranquility of the Botanical Garden you will find the pulsating campus life and works of famous artists.
We invite you to a tour across the campus: Explore the RUB on your own or follow one of the suggested routes and get a nice impression of the campus.
Our extended tour (ca. 3.8 km, not barrier free) takes you from the center of the campus east to the buildings of the Natural Sciences and Engineering, through the Botanical Garden and Chinese Garden, and back to the central axis along the canteen and Audimax. Finally, we make a short detour to the west to visit the Social Sciences and Medicine.
The short tour (barrier free) concentrates on the center of the campus with the library, Audimax, canteen, art collections, and some additional stations.
Both routes are accessible outside the opening hours of the buildings. Nevertheless, please pay attention to the opening hours of the Botanical Garden and the operation hours of the elevators (barrier free route).
Further details and the mp3 files to download can be found here