Public transport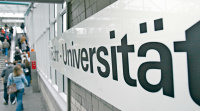 All recommended hotels can be reached with the ticket "Preisstufe A". You will get a five-day-ticket at the registration desk together with your registration bag, so you only need to buy a single ticket to get to RUB (once) on Monday morning. Tickets can also be bought at the ticket machines at every station. There you can also buy single tickets or day tickets.

Each participant will receive a ticket for free use of public transport (subway, bus, tram) from their hotel to RUB and back for the full length of the meeting (October 10–14). It takes about 9 minutes from the central railway station "Hauptbahnhof" to the university by subway line U35 (direction: Bochum Hustadt). Please get off at "Ruhr-Universität". Information on the public transport system in Bochum
can be found online.

Directions
How to get to Ruhr-Universität Bochum (RUB)
Please visit directions.

Map: how to get to Veranstaltungszentrum (5.0 MB) Area "B" where the public transportation ticket is valid (20.0 kB) General terms and conditions Bogestra KombiTicket (141.1 kB)
Airplane
The closest and best connected airport is "Dusseldorf International (DUS)".

Important Note: There are two train stations at this airport. Do not proceed to "Dusseldorf Flughafen Terminal / Terminal Rail Station" but take the "SkyTrain" to its final stop which is "Dusseldorf Flughafen / Airport Rail Station" (about 5 minutes journey). Take a train there (either local or long-distance) in the direction of destinations such as Essen, Bochum, Dortmund, or Berlin and leave it at "Bochum Hauptbahnhof (Hbf)" after about 35 minutes.


Further useful links
Deutsche Bahn (German Railway)
Düsseldorf Airport
Airport Cologne/Bonn
Airport Frankfurt
Weather
Phone book
Bochum Tourism
Bochum